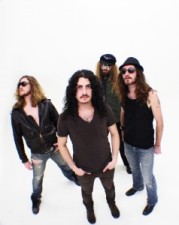 It's loud. It'll make you dance. It'll make you scream. It'll make you bang your head, grow your hair long, and call in sick
to work because you were up all night listening to sex on six strings. TimeGiant is a Rock n' Roll quartet from Toronto, Canada that features soaring vocals, thunderous bass, stampeding drums, and piercing guitar harmonies making up a modern sound stemming from the 70's. Music industry professionals and fans alike are raving about TimeGiant:
"With a self-titled EP and a full-length dubbed Grow already available, TimeGiant is joining the ranks of younger bands like The Sheepdogs and more locally, Monster Truck, looking to music four-decades their senior for inspiration." -Ric Taylor (View Magazine – Hamilton, Ontario)
"My money is on them to be Toronto's next big band in the tradition of Max Webster, Triumph and Rush. Mustaches and long hair have never been cooler!" – Music Blogger, Terry Makedon (www.tmakworld.com - Toronto, Canada)
TimeGiant has toured extensively across North America performing alongside bands including:
Theory of A Deadman
Collective Soul
U.S.S
Treble Charger
The Doors (Robby Krieger and Ray Manzarek)
Marianas Trench
David Wilcox
Helix
The Band
Tyrone Buccione (Lead Vocals, Lead Guitar, Saxophone)
Ryan Watson (Rhythm Guitar, Harmonica)
Pat Wilken (Bass Guitar, Backing Vocals)
Charlie McKittrick (Drums, Backing Vocals)
Current Releases
TIME (ep) 2009
Grow (full-length) 2011
TimeGiant is currently recording with critically acclaimed producer Greg Nori (Sum 41, Treble Charger, Marianas Trench) and will be touring Canada in 2013. The band can be followed on all major social networking outlets accessed online at www.timegiantband.com.