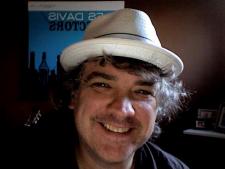 Craig started playing the piano when he was nine. He picked up the guitar when he was ten,
wrote his first song when he was thirteen. He started playing drums at fourteen. As a multi-instrumentalist/songwriter, Craig has played in countless bands (MixMatch, Shout!, The Romps, The Malones), worked on numerous studio projects and has just released his latest album called Everything Will Pass.
Everything Will Pass was inspired by a series of events in Craig's personal life : the death of his parents, a divorce and substance abuse. It proved to be very cathartic, writing and recording this album, says Robertson. Finding a silver lining through all of it, he not only wrote of the dark times, but of the optimism that can come from living through the tough stuff. Recorded in the Kawartha area of Ontario, the rural surroundings also offered inspiration to the earthy and honest vibe of the ten songs. Craig played drums, guitar and piano on the project that also features guitarist/recording engineer James McKenty (The Spades), bassist Richard Simpkins (Rick Fines), guitarist/engineer Rob Isabella and vocalist Crystal Harvey-Robertson.
His live resume includes gigs at The Horseshoe, The Rivoli, Clintons, Free Times Cafe, Holy Joes, The Cathedral, The Big Sexy (Oshawa) and more. He's also performed at NXNE and Canadian Music Week. Craig continues to write great songs with a prolific approach to his craft - The more you write, the better the songs will be. For every ten songs written, maybe one will rise to the top. Craig not only writes of his personal journeys, but for other artists as well. From pop hits, to country ballads, blues and rock, Craig can write it! He is currently pitching songs to publishers. He is also writing material for a follow-up album scheduled for release in 2013.
http://www.facebook.com/craig.robertson.9085